"In case of dissension, never dare to judge till you've heard the other side."
― Euripides, The Children of Herakles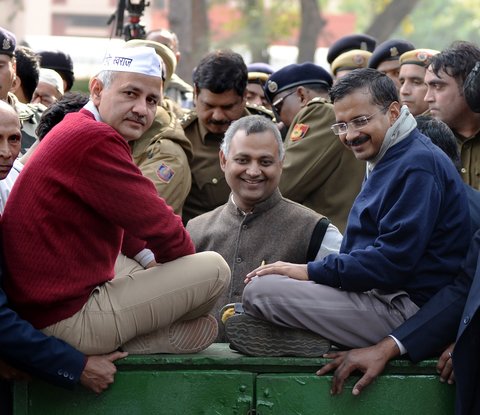 The experience as the Law Minister of Delhi though short has been a very enriching one for me, even though it was mired with controversies possibly created to hinder the strides that were being taken towards good governance. Following the quote I started with, this is to provide you with the information on the other side that you haven't heard. The aspect not highlighted, the aspect not talked about, the aspect that was an effort to bring forth good governance & efficient judicial system, the aspect that mattered most to all of us- the AAM AADMI !
It is important for people know about some decision taken by the Law Minister's office in Delhi for the benefit of the people & to provide them expeditious, efficient & affordable justice. Some of them have been highlighted below:
1.Merit based & Transparent appointment of Government Counsels – Based on Hon'ble Lieutenant General's concern on poor quality of government counsels, a decision was taken to make the process of selection transparent & merit based. It was decided that applications for 100+ of these posts would be invited through an advertisement. An independent panel comprising of a Retired Chief Justice & social activists (or similar) for selection of efficient & effective government counsels was proposed.
2. Well equipped office for Chief Public Prosecutor in every District Court – The need for basic facilities like an office space & infrastructure for Chief Public Prosecutor was recognised & process set in motion to provide the same to those who defend the Justice's interest in our judicial system.
3. Many cases in our courts have been going on for a long time & sometimes we see witnesses turning hostile leading to acquittal of the accused. There can be two scenarios either the case was genuine & witness turned hostile or the case in the first place was false. A decision was taken to prosecute hostile witnesses. So as to ensure justice & also prevent false cases by setting an example thereby reducing the burden on judiciary.
4. Prosecution of Investigation Officers found guilty of negligence of duty. In many cases justices cannot be provided due to sample loss or other delays. If these delays are found to be deliberate then investigation officers have to be prosecuted.
5. State of the Art Forensic Science Laboratory in Delhi.
Despite being the National Capital, Delhi does not have a Forensic Science Lab. The samples & evidences are sent to Hyderabad or Chandigarh for investigations. This can delay or even hamper the process of justice. Hence we initiated the process of getting Delhi its own state of the ast & well equipped Forensic Science Lab.
6. Moved the thought of separating Investigation from Law & order.
Currently the police have been entrusted with the duty of maintaining Law & Order which includes investigation by default. If investigation can be separated from maintenance of Law & order the lapses in law & order can be fairly investigated.
7. Fast Track Courts for Crimes against women – Started the process of finding vacant court rooms in District Courts. 30 vacant courtrooms were identified & Registrar General of Delhi High Court was notified to use them to Fast Track Cases of crimes against women.
8. Fees for Non-effective appearances of lawyers not to be paid – Scrutiny of fees charged by Senior Lawyers to be done and in cases where the government has been charged for non-effective appearances like requesting change of date or invalid appearances, the fees shall not by the government thereby reducing the cost of litigation of the government.
9. worked towards Increased Accountability of courts by suggesting video recording of proceedings – To increase the accountability of Courts particularly lower courts it was suggested that court proceedings be video graphed. As a trial a particular case was ordered to be video recorded and a suggestion to implement it in other cases was also moved.
10. Attachments of Counsels qualified to handle specific departments' cases rather than burdening the Law department to choose from a large number of panel counsels for each case which causes irreparable damage to the case.
11. Supreme Court to have our own Counsels rather than being at the mercy of general pool of government counsels to ensure quality as well as cost effectiveness.
12. Withdrew application of Delhi Government (by previous govt.) requesting withdrawing the filing of FIR against Shiela Dixit.
13. Ensure expeditious, equitable & affordable judicial system for all – Secretaries, & other stake holders were heard & suggestions were sought to find out deficiencies, needs & problems faced by district court judges & steps to be taken to make the judicial system expeditious, equitable & affordable. The request to meet all the judges was for the same reason, unfortunately, was projected as the Law Minister summoning the judges for a meeting.
14. Orders were passed for ensuring Bio Metric Attendance system in every department of Delhi Government.
15. To promote use of renewable sources of energy, a pilot project to light up Dilli Haat through Solar Energy was ordered.
16. Despite a provision of Rs.17 Lakhs for camp office of the Law Minister, the money was saved & not used.
17. No new fleet of cars were ordered for the new government & cars used by previous government were used & that too for official purpose only. Despite the option of ordering new cars as per requirement. Not only this, no claim for petrol was made by the Law Minister. There by saving ex-chequer's money.
18. To increase accessibility of the government towards people, one hour every working day was declared "no permission required walk-in" period. Wherein a common man could walk upto the minister's office with their grievances.
19. Long pending request for additional staff was also moved forward as part of administrative reforms.
20. Court Allowances meant for High Court staff was also set as priority.
21. It was also ordered that all PILs submitted to be studied & synopsis of the same to be submitted. So that any effective suggestion can be implemented.
22. Apart from fulfilling the duties of a cabinet minister, it was also important not to neglect own constituency. So the following initiatives were taken to provide better governance to people of the constituency:
Ten Mohalla Sabhas were held in Malviya Nagar constituency wherein the people were able to share their grievances directly with the concerned officials. Accountabilities were set for timely delivery of services. People's participation in governance was encouraged.
A model for grievance redressal system called Aapconnect was devised to be implemented online & on ground that would make the system of addressing public complaints more transparent & efficient.
Parks were identified & days were fixed where Mr. Somnath Bharti would be available every morning. It was a way of staying in touvh with the people of the constituency & increasing accessibility whereby the people don't go to their elected representative instead he goes to them everyday.
Janta Darbar was also held every morning in the party office so that people can approach the MLA with their problems daily. It was an open session wherein all were welcome.
Our government has worked very hard to provide the people of Delhi good governance & we shall always strive to do the same by providing them efficient & corruption free governance but like they say "There may be times when we are powerless to prevent injustice, but there must never be a time when we fail to protest."
― Elie Wiesel
Our resignation was a protest to the injustice mooted out by Congress & BJP to the people of Delhi over Jan Lokpal & we are sure the people of Delhi will bring us back with power to prevent the injustice being done to them.